space for humanity humanitarian
Have you ever dreamt of working with technologies developed for the conquest of space, or those made to make a rocket launch? You can stop dreaming and start doing! ActInSpace is the only contest in the world that offers the chance to work on CNES and ESA patents.
Have you ever dreamt to use space technologies to launch a startup with a real impact on daily life? Search no further! ActInSpace's first goal is to foster startup creation, and the most promising project will win our the Grand Prize!
If you'd like a chance to win the Grand prize, or some of the partner prizes targeting entrepreneurial projects our advise is to choose a challenge with the #AIS-IN label.
If you'd like to have fun, change the world or want to w,in some of the partner prizes not strictly targeting entrepreneurial projects: Challenges with the #AIS-OFF label are made for you
Label:
#AIS-IN: Challenge with a high business potential
#AIS-OFF: Challenge with a low business potential

More explanation regarding the other tags:
#Patent: Challenge based on CNES or ESA Patent
#Data: Challenge based on satellite data (Pleiades, Sentinel, etc…)
If you want to narrow down your search, these tags will help you:
#EarthObservation #Satellite #Navigation(GNSS) #Drone #Balloon #SpaceOperation #Optical #Electronics #ImageProcessing #Materials #Robotic #BigData #ArtificialIntelligence #InternetOfThings #Moon #Mars #ISS #Exploration #SpaceExperiment #Ecology #Health #Science #Software #Data #Patent #GeoMarketing #Agriculture #Copernicus #3DPrinting #Manufacturing #Structure #Civil-MilitaryTechnology #Telecommunications #Launchers
Space for humanity #Humanitarian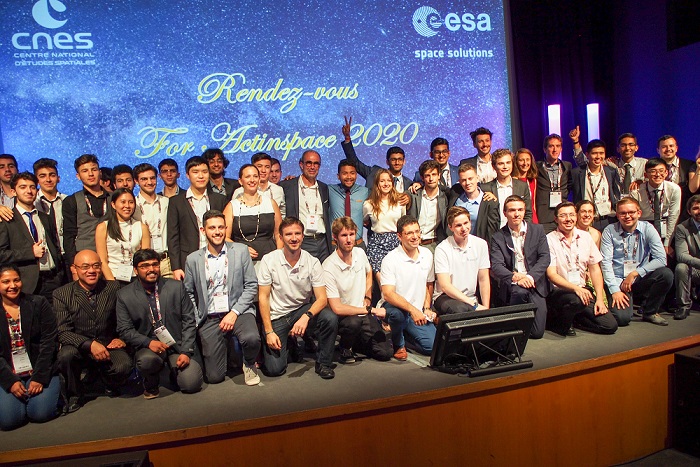 Press release: Winners of the #ActInSpace® 2018 edition
Press Release : ActInSpace Goes International
Boost your Career in Aerospace!
Home page
About
Challenges
News / Blog
World map
contact@actinspace.org