The 5th edition will be held on 18th & 19th of November 2022
Time to register !
ACTINSPACE'S TEASER IS COMING... STAY TUNED !
Feedback on ActInSpace 2020
After a third worlwide edition: ActInSpace 2018, ActInSpace 2020 have been a full success.
ActInSpace 2020 took place simultaneously on 13 and 14, November 2020 in 35 countries and 58 cities despite the global crisis of the COVID. This fourth edition proved an enormous success, attracting more than 3,612 inscribed.
During the event, 2,300 participants took part in more than 543 teams working for 24 hours on one of the 51 challenges set.
The International Prize, a flight in weightless conditions aboard the A310 Zero-G aircraft, went to Wright Team Incorporated from France will a team name : Full Metal Energy.
Let's remember this great event together
ActInSpace ORGANIZERS
ActInSpace® is an international innovation contest initiated by the French Space Agency (CNES) uniting over 100 cities across 5 continents. ActInSpace® is supported by ESA and the ESA Business Incubation Centres network. The CNES and ESA have mandated ESA BIC Sud France, led by Aerospace Valley, for the operational execution of the 5th edition of ActInSpace®.
ActInSpace OPERATORS
COUNTRIES
CITIES
COMPETITORS
CHALLENGES
ACTINSPACE 2022 CHALLENGES
Have you ever dreamt of working with technologies developed for the conquest of space, or those made to make a rocket launch?
Stop dreaming and start doing! ActInSpace is the only contest in the world that offers the chance to work on CNES and ESA patents.
Have you ever dreamt of using space technologies to launch a startup with a real impact on our daily lives? Look no further! ActInSpace's primary goal is to foster startup creation.
Plenty of partners provided challenges. To help you make your choice, the challenges have been subdivided into different categories.
#Business in everyday life: Get your business off the ground using space technologies
#Space4.0: Become a NewSpace player and improve the space sector thanks to 'earth technologies'
#Humanitarian: Find a way to make the Space Sector serve humanitarian causes
#Fly to the moon and Beyond: Dreaming big, Innovate even bigger
ActInSpace's 2022 Prizes are coming !
Discover the winners of the locals editions !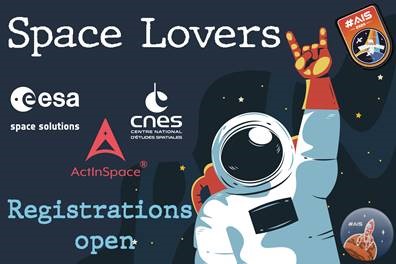 Only a few weeks until ActInSpace 2020 !
Home page
About
Challenges
News / Blog
World map
Legal notice
contact@actinspace.org