Welcome to Darmstadt - City of Science
With the European Space Operations Centre ESOC, the beautiful city of Darmstadt is Europe's Gateway to Space. Since 2016 however it has one more attraction: The ActInSpace – Hackathon!
With more than 40 students, graduates and creative thinkers ESA BIC Darmstadt (managed by cesah) hosted in 2016 ActInSpace at the Applied University of Applied Sciences. 11 teams developed a project with the topic of tomorrow uses and services from space technologies within 24 hours. They were supported by space experts, mentors and got scored by a professional jury. Partners and sponsors were the City of Science, Darmstadt and the University of Applied Sciences, House-of-IT and Hessen Trade&Invest. The national winner-Team "Eneo" won a travel to Toulouse to the "Toulouse Space Show".
We are happy to be part again in 2018 in ActInSpace
We are looking for entrepreneurs, students, creative thinkers who would like to take part in this great challenge with like-minded people. The event in Darmstadt will take place on 25th and 26th of May 2018 in the nice HUB31 building. The international final will take place at the Toulouse Space Show 2018 on June 27th. The first prize of the national winner win a travel to the Toulouse Space Show.
Are you interested in Space, in topics like EarthObservation, Satellite Navigation, Drone, Balloon, SpaceOperation, ImageProcessing, Materials, Robotic, BigData, ArtificialIntelligence, Moon, Mars, ISS, SpaceExperiment, Ecology, Health, Science and Data?
Yes? Then join us at #ActInSpaceDarmstadt.
We will have technical experts and mentors who will help you and your team.
Should you have any questions, please do not hesitate to ask our team: events@cesah.com
Your ActInSpace Darmstadt Team
The event will take place in the new technology- and founder center HUB31 in Darmstadt, Hilpertstraße 31.
Program for ActInSpace Darmstadt
Friday, 25.05.2018
11:30 – 12:00 Arrival / Registration
12:00 – 12:30 Welcome speeches:
Sascha Heising, FabSpace 2.0,
Dr. Frank Zimmermann ESA BIC Darmstadt
Nicole Pinto City of Darmstadt
Welcoming Messages from CNES,ESA,ESA BIC Sud France (video)
12:30 – 12:45 Satellites for Earth Applications (by Bayzidul Islam)
12:45 – 13:00 Coffee Break
13:00 – 13:30 Keynote (by Mariella Spada / ESA)
13:30 – 15:00 Teambuilding and challenge selection
15:00 – 16:30 KICK-OFF - Challenges begin
16:30 – 19:00 Space Experts and Coaches Briefing
19:00 - 20:00 Dinner
20:00 – 20:30 Activity Session
20:30 – Open End (Happy hacking)
Saturday, 26.5.2018
0:00 – 09:00 Happy Hacking
09:00 - 09:30 Breakfast
09:30 - 10:30 Happy hacking
10:30 - 12:00 Coaches check project progress
12:00 - 13:00 Happy hacking
13:00 - 14:00 Lunch
14:00 - 15:00 Finalisation of presentations and pitch preparation / HACKING END
15:00 - 17:00 Presentation of projects to a jury of professionals
17:00 - 17:15 Jury Evaluation
17:15 - 17:30 Award Ceremony
17:30 - 18:00 End and Get Together
18:00 Official End
Our experts for the event
Frank DR. ZIMMERMANN
Dr. Frank Zimmermann is the Managing Director of cesah. He will help the teams with his experiences working on their challenges.
Sascha HEISING
FabSpace 2.0 Germany @ESA BIC Managed by cesah GmbH
Md bayzidul ISLAM
Md Bayzidul Islam (FabSpace 2.0 Germany @TU Darmstadt) is a Remote Sensing expert, will help you to access and process Earth Observation imagery for digital application development.
Donata PEDRAZZANI
Donata Pedrazzani, ESA BIC Darmstadt Manager, will take part as a jury member.
Mariella SPADA
Mariella Spada is the Head of Strategy and Coordination, Directorate of Operations, European Space Agency - ESA. Mariella will be the keynote speaker and also be part of the jury.
Camilla DR. MOHRDIECK
Dr. Camilla Mohrdieck, Senior Expert Multi Source Integration, CIS Engineering, Airbus Defence and Space. She will be a member of the jury and help as space expert on Saturday.
Andreas HEUBERGER, MA
Andreas Heuberger, MA, will be a Business coach during the event and will help the teams to create a business plan.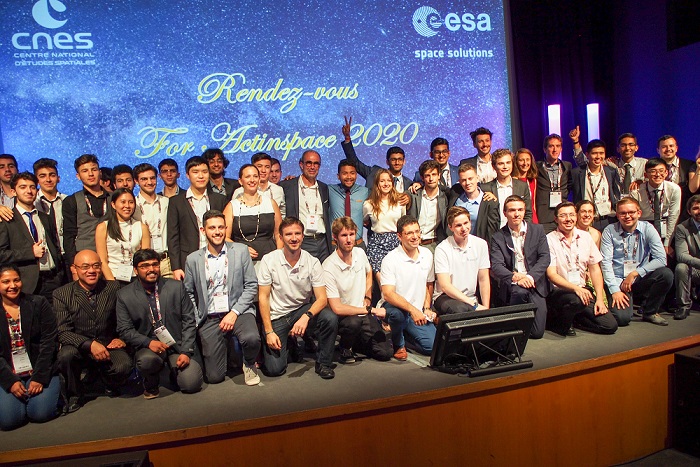 Press release: Winners of the #ActInSpace® 2018 edition
Press Release : ActInSpace Goes International
Boost your Career in Aerospace!
Home page
About
Challenges
News / Blog
World map
contact@actinspace.org