ActInSpace in Germany will be in Darmstadt
The 2020 edition of ActInSpace will take place in Darmstadt as a pure virtual hackathon event. Are you interested in Space, in topics like Earth Observation, Satellite Navigation, Drone, Balloon, Space Operation, Image Processing, Materials, Robotic, Big Data, Artificial Intelligence, Moon, Mars, ISS, Space Experiment, Ecology, Health, Science and Data? Then join the event, find a team, develop a project within 24 hours, receive support by technical experts and space mentors and get scored by a professional jury! We are looking for pioneering entrepreneurs, passionate coders, creative designers and cross industry researchers as well as highly-motivated students. All creative thinkers cross industries/domains are invited to take part in this great challenge with like-minded people.
With the online event we want to provide you the best experience by taking into account COVID-19 restrictions (more information below). Will will do our best to provide an enjoyable event for you.
Location, date and time
ActInSpace2020 in Darmstadt will start with a live online broadcast from our virtual studio stage at:
> > > 15:00 CET on 13th of November 2020. < < <
The link to this broadcast will be shared with you HERE IN ADVANCE! We plan to have it ready without any additional registrations needed. For the event we are preparing several online and offline locations. Our goal is to allow you to take part 100% virtually, so you can join from home.
Online locations
Stream: Live broadcast from our studio main stage
Zoom: Video chats and breakout sessions as well as webinars on demand (t.b.c.)
Slack: Text messages and chats in dedicated channels in the background (t.b.c.)
Offline locations
There are no offline locations available for the hackathon.
Pre-hackathon actions planned
Currently we are planning several pre-hackathon acitivites mainly to tackle challenge selection and team-building process. That means you should get in contact with us, if:
You are unsure which challenge to select
You are attending alone and need help in finding a team
In both cases please contact events@cesah.com for further advice.
The hackathon concept in Darmstadt
And why you should attend!
In reaction to the COVID-19 pandemic cesah has decided to opt for a virtual hackathon event. The virtual concept means, that we will broadcast the event to your home. 100% online participation will be possible. Unfortunately we cannot offer some offline goodies for you, as originally planned.
Your starting point will be the live broadcast at 15:00 CEST on 13th of November. All information will be in English. The main stage will be a kind of binding element of the event and connect the single parts. Here we will also tell you where we are and what happens next. In addition, you should join our dedicated slack channel for ActInSpace 2020 in Darmstadt. We will use it for a kind of backbone communication system. You can ask questions organize yourself or get in touch with mentors.
COVID-19 counteractions
The organizer is responsible for a safe event under pandemic restrictions. This is why cesah (organizer) opted for a hybrid event. All offline offers by the organizer are designed to balance between your personal safety and the spirit of on-site hackathon. To make use out of these possibilities, attendees shall:
Allways follow the recent advices by the organizer
Limit personal exchange as much as possible (no hand-shaking)
Don't attend or participate, if you are or if you have been in a risk area (More info here)
Always wear a face mask in the building
Wear a face mask in the workshop rooms when distance is below <1.5m or ventilation bad/not possible
Desinfect hands on entering/leaving rooms
Be contactable by the organizer, also after the event in case of a potential outbreak
COVID-19 DISCLAIMER
In case the local or national restrictions will change cesah might be forced to close the event, even on short notice. There is no right to attend the event, even after registration.
AIS Darmstadt now 100% virtual
Accomodation on site is not possible
Greetings from 2018 edition national winner
UPDATE (27.10.2020)
Our hackathon will be a 100% virtual event.
We will provide no access to cesah's facilities for the purporse of the hackathon. Please stay at home.
Our experts for the event
Frank DR. ZIMMERMANN
Dr. Frank Zimmermann is the Managing Director of cesah. He will help the teams with his experiences working on their challenges.
Sascha HEISING
Head of EU projects @ cesah Here to help you nail the problem you want to tackle
Donata PEDRAZZANI
Donata Pedrazzani, ESA BIC Darmstadt Manager, will take part as a jury member.
Caroline PROF. DR. BOCK
Entrepreneurship, TU Darmstadt
Sören EVERSMEIER
Venture Developer & Startup Manager of DB Systel GmbH – digital partner of Deutsche Bahn AG. Helping digital innovation teams to grow & succeed.
Dirk PLEWNIA
Startup & Bank collaboration; Future Technologies & Banking; Corporate Innovation Technology Expert at main incubator GmbH (R&D unit of Commerzbank AG).
Cristina CONESA CARBONELL
Restless Intrapreneur - Business and Marketing Advisor - Proactive Networker - Experienced Speaker
Andres MARTINEZ
Sales & Business Development director in Telespazio VEGA. Will support the commercialisation of ideas, the targeting of customer segments & general feasibility of the business aspects.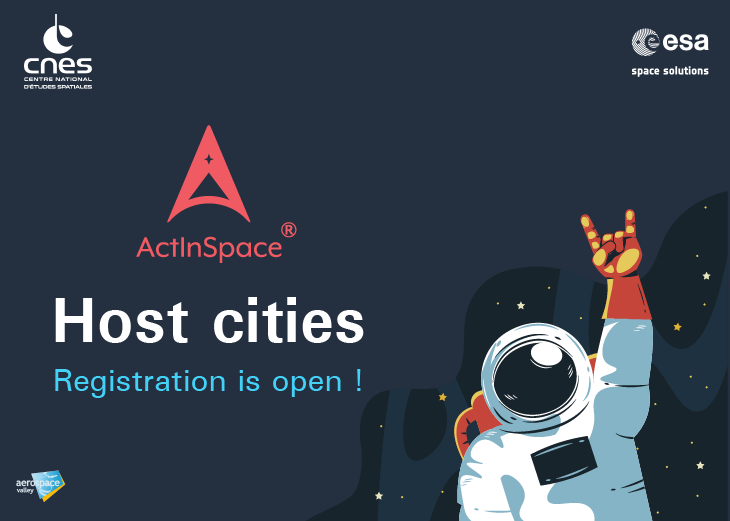 City registration is open !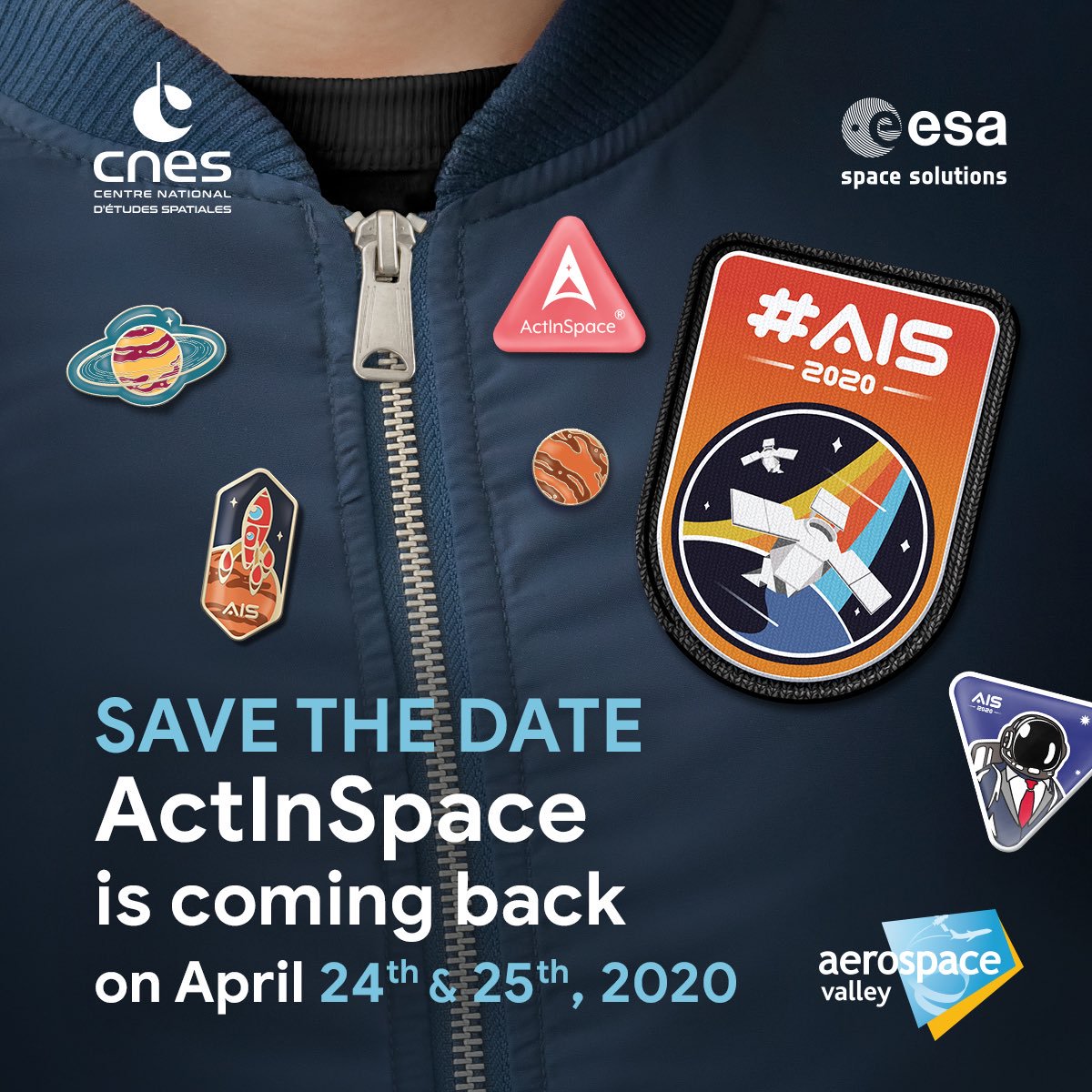 ActInSpace® 2020 kicks off at Paris Air Show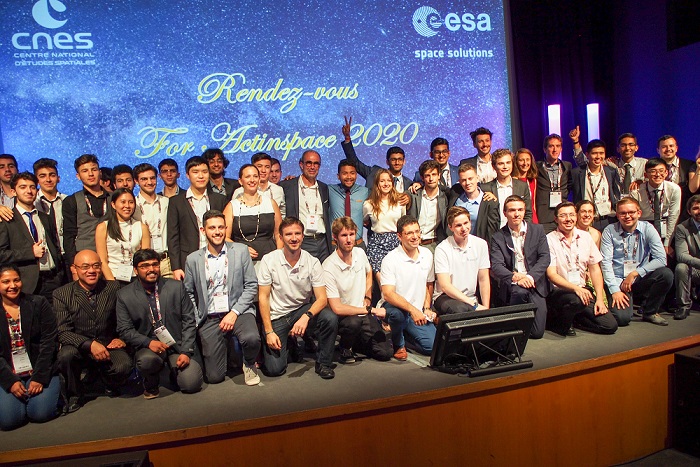 Press release: Winners of the #ActInSpace® 2018 edition
Home page
About
Challenges
News / Blog
World map
Legal notice
contact@actinspace.org