#ActInSpace2020 - Toulouse
Cet événement, les 13 et 14 novembre 2020, est organisé par le CNES en collaboration avec l'ESA à travers Aerospace Valley et Pragma Consult.
Toulouse, surnommée la « ville rose » , est une ville importante du sud-ouest de la France. Connue pour ses bâtiments en briques roses, son ambiance décontractée, sa situation géographique entre les Pyrénées et la Méditerranée, et son équipe de rugby, c'est aussi le site historique de l'industrie aérospatiale et aéronautique française. Avec le Centre National d'Études Spatiales (CNES) et le siège d'Airbus Group, la ville abrite 25% des employés du spatial européens. C'est donc l'endroit idéal pour participer à ce fameux hackathon !
Cette année encore, l'objectif d'ActInSpace est de favoriser la création de start-ups en utilisant et en adaptant les technologies spatiales à notre quotidien. Au cours de ce hackathon, les équipes de 3 à 5 participants devront relever l'un des défis mis en avant par le CNES, l'ESA et d'autres sponsors en seulement 24 heures !
Étudiants, entrepreneurs, chercheurs ou simples passionnés par l'espace…. Quel que soit votre parcours, venez participer à ActInSpace à Toulouse pour explorer de nouveaux concepts et faire émerger de nouvelles opportunités business lors d'un événement collaboratif et fun !
Les inscriptions sont ouvertes !
-----------------------------------------------------------------------------------------------------------------------------------------
-----------------------------------------------------------------------------------------------------------------------------------------
#ActInSpace2020 – Toulouse
This event, on November 13th and 14th, is organized by CNES in collaboration with ESA through Aerospace Valley and Pragma Consult.
Toulouse, also called the "Pink City", is an important city in the southwest of France. Known for its pink brick buildings, its relaxed atmosphere, its geographical location between the Pyrenees and the Mediterranean sea, and its rugby team, it is also the historic site of the French aerospace and aeronautical industry. With the Centre National d'Études Spatiales (CNES) and the headquarters of the Airbus Group, the city is home to 25% of European space workers. So it is the ideal place to participate in this famous hackathon!
This year again, the objective of ActInSpace is to promote the creation of start-ups by using and adapting space technologies to our daily life. During this hackathon the teams of 3 to 5 participants will have to take up one of the challenges put forward by the CNES, the ESA and other sponsors within 24 hours.
Students, entrepreneurs, researchers, or simple space amateurs…. whatever your background, you are welcome to be part of this international hackathon. Come to ActInSpace in Toulouse to try something new, to explore new concepts and maybe create new business ideas in a fun collaborative event!
Registrations are opened ! ActInSpace's prizes in Toulouse
Business Prize ESA BIC & DISTRICT
Accompagnement....
With
Our experts for the event
Arnaud DELIGNY
AIRBUS DEFENCE AND SPACE Corporate Hacker. Conquer the status quo and do work that matters. Concept, design, market and experiment new cutting edge experiences based on breakthrough innovations to enable Space Business Growth.
Matthieu LYS
Aerospace and Telecom Engineer with15 years of experience within Thales, DGA and Airbus as UAV System Architect, Test Programme Manager, Flight Test Engineer and Executive Assistant to the COO. He's working to develop new products and services
Brigitte ANTONIO
AIRBUS DEFENCE AND SPACE Space engineer for over 30 years, she wanted to develop her skills by training in individual and collective coaching in order to participate in the development of the human capital in the company.
Ramón arquímedes GÓMEZ MOYA
Payload Architect THALES ALENIA SPACE A multilingual, international, self-motivated person currently working in the aerospace sector. He consider himself as a space enthusiast, passionate about space technologies, communications and team sports.
Discover the winners of the locals editions !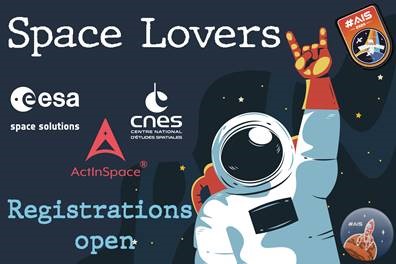 Only a few weeks until ActInSpace 2020 !
Home page
About
Challenges
News / Blog
World map
Legal notice
contact@actinspace.org