Rennes is the leading center for higher education in the greater western area of France, welcoming more than 68,000 students in its various educational and research establishments, which cover a broad range of disciplines. It provides a rich, dense ecosystem comprising large groups, start-ups, public and private research laboratories and centers of excellence, which has an important role in attracting and establishing new centers for R&D and innovation.
ActInSpace #Rennes is organised by Le Poool and the University of Rennes Project with the support of PEPITE Bretagne, ESA BIC Nord France, Centre EIT Digital de Rennes, the physics institute of Rennes, Brittany Region and the Unseenlabs company.
The Act In Space challenge will be totally virtualized.
Students, researchers, users, developers, passionates, …. whatever your background, you are welcome to be part of our International Hackathon. Come to try something new, to explore new concepts and maybe to create new business ideas in a fun collaborative event.
Come and learn more about space technology transfer !
Our experts for the event
Barbara PRUDHOMME
Pépite Bretagne, sensibilise les étudiants à l'esprit d'entreprendre et accompagne les étudiants et jeune diplômé dans leur projet de création via notamment le statut national d'étudiant entreprendre
Isabelle FAGES
De formation ingénieur, j'ai suivi la voie de la propriété intellectuelle en devenant Examinatrice de Brevets auprès de l'INPI. J'accompagne désormais les startups dans leur stratégie de protection et de valorisation de leurs innovations.
Aurélien CUNIN
Je suis là pour vous aider à concevoir la bonne solution, pour le bon problème identifié auprès de vos futurs utilisateurs. Egalement vérifier que cette solution tient la route économiquement parlant.
Pascal ROSENBLATT
Scientific exploration of the solar system. Scientific requirements. Performance analysis.
Benoit ROUÉ
Experience in R&D projects, in several fields of innovation : video processing (MPEG, STANAG), image processing (watermarking , sonar images) and Infosec. I also have skills in intellectual property, innovation management and entrepreneurship.
François HUBER
senior international consultant with 25+ years of operational experience in various sectors, in global groups, family businesses and startups, management of international projects, international tracks in engineering & business.
Marie LERESTEUX
prise de parole en public art du pitch
Céline MONSALIER
prise de parole en public art du pitch
Pierre-yves DEMAURE
Ingénieur Brevets, Mandataire Européen et Français chez Marks and Clerk France
Eric SERRÉ
Innovation & Entrepreneurship chez PAN and TILT Consultancy and backup services on enterprise strategy, design, innovation & product management. Entrepreneurship training: from ideation to business plan
Laure QUATREBOEUFS
Management de l'Innovation, sciences de gestion, entrepreneuriat, transformation numérique des entreprises
Sylvain MICHEL
au sein de la Direction de l'Innovation du CNES à Toulouse, je définis et pilote des actions de rupture dans l'innovation. Quelques-uns de mes domaines d'intérêt : utilisation durable de l'espace, recyclage en orbite, gestion du trafic spatial, ...
Jonathan GALIC
Co-founder & CTO at UnseenLabs an innovative company of French origin, leader in Europe in RF satellite geolocation of ships at sea.
Xavier BOURDON
Directeur Valorisation et Entrepreneuriat chez Campus d'innovation de Rennes / Projet UniR Expertises en gestion de projets innovant, valorisation de la recherche, entrepreneuriat deeptech.
Valérie LE CANN
Coordinatrice du pôle doctoral de Rennes. Expertises : gestion de projets, formation doctorale, insertion professionnelle des docteurs
Marie CORBIN
Responsable des partenariats avec les établissements d'enseignement supérieur et de recherche au Poool, technopole et capitale French Tech Rennes St Malo. Co-organisatrice de l'évènement
Sylvain PERNON
Ingénieur de Recherche à Université de Rennes 1 / Chef de projet Lanceur et Système de Lancement Projet PERSEUS du CNES; co-organisateur de l'évènement
Mariko DUNSEATH-TERAO
Pr Dr at Université de Rennes 1 Specialities: Computation science, quantum collision theory, planetology, higher education in modelling and scientific programming, coaching of university students
Julien LE BONHEUR
Responsable de la communication scientifique de l'Université de Rennes 1 Construction d'une présentation vulgarisée, prise de parole en public
Antoine BAUBAU
L'adéquation recherchée entre un produit et le marché recherché étant une problématique récurrente, Antoine vise à l'obtenir au travers une démarche Design associée à une méthodologie d'étude, une vision économique, et une force de gestion de projet.
Discover the winners of the locals editions !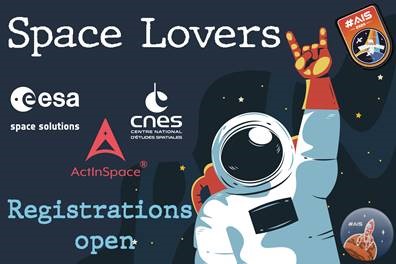 Only a few weeks until ActInSpace 2020 !
Home page
About
Challenges
News / Blog
World map
Legal notice
contact@actinspace.org