We are ready for Act In Space 2020!
This year #ActInSpace2020 Luxembourg will take place at Technoport technology business incubator in Belval (Esch-sur-Alzette). The event is organized by Technoport and InTech.
The event was created by the CNES & the ESA. The hackathon is running every two years at international level. Each participating country organises a national hackathon whose winning team will participate in the international final in Toulouse.
The main goals of Act In Space hackathon are:
To

foster and enforce entrepreneurial and innovation management practices of participants by offering a game-based learning experience;

To promote space;
To promote the creation of start-ups by using and adapting space technologies to our daily life;
To create an event focused on space and innovation in Luxembourg.
During this hackathon several teams will have to work on the challenges offered by the CNES, the ESA and other sponsors in 24h. The full list of challenges is available on the website https://actinspace.org/
This year also a Luxembourg challenge has been introduced, in collaboration with the Space Robotics Research Group. A specific prize is dedicated to this challenge. The Luxembourg LunaLab representatives will review the project proposals. The best team with a valid moon rover for the mission of finding ice on the moon, will have the privilege to receive a DIY kit and to remotely test the rover at the Luxembourg LunaLab.
Two pre-event webinars will be scheduled for September and October to discover more about the hackathon and to meet the organisers and potential team members.
Location & Agenda
Act In Space Luxembourg 2020 will take place in Technoport incubator on 13th-14th November 2020:
9, avenue des Hauts-Fourneaux, L-4362 Esch-sur-Alzette, Luxembourg
The event starts at 1h30 PM on 13th November. Doors and onsite checkin will open at 1 PM.
The 24hrs hackathon will end at 3 PM on 14th November. The teams' pitches and awards ceremony will follow until 5 PM approx.
AGENDA
1h00 PM Friday 13th Nov: Doors open
1h30 PM Friday 13th Nov: Event launch
Welcoming message
Reminder of the competition rules
Meet the coaches
Consolidating the teams
From Friday 13th Nov 3h00 PM to Saturday 14th Nov 3h00 PM : Hackathon
Group work with each team, with support of experts
Duration: 24 hours
3h30 PM Saturday 14th Nov: Pitches to the jury
Teams pitch in front of the jury
7-10 minutes for each team
4h30 PM Saturday 14th Nov: Award Ceremony
Result and feedback to each team
Award ceremony
Closing cocktail
Participate in Act In Space 2020
The hackathon is open to space-related professionals and university/doctoral students in the following fields: STEAM (Science, Technology, Engineering, Art, Mathematics), Business, Medical, Design, Behavioral sciences.
As participant, you will foster and enforce entrepreneurial & innovation practices through experiential learning.
Participants are asked to form teams, choose one of the space challenges proposed by CNES, ESA and sponsors, and deliver a solution in 24 hours, mentored by professional industry experts.
We can welcome a maximum of 50 people: 10 teams of maximum 5 people each.
Registrations open in September.
Coaches & Jury
Several industry experts and professionals representing the most relevant actors of the Luxembourg space and tech innovation ecosystem and research institutions from the Greater Region will support and evaluate the teams.
Full list of coaches and jury members coming soon.
Prizes
Exceptional prizes coming soon!
Look at previous editions' aftermovie
SpaceHack Luxembourg 2019
Technoport and InTech have introduced also another space event in Luxembourg: the SpaceHack. The SpaceHack is a new 24hrs hackathon event that aims at exploring space industry potentials, enhancing entrepreneurial and innovation management practices through experiential learning in space industry-focus areas.
The first edition of SpaceHack took place at Technoport technology incubator on 29th & 30th November 2019. Look at what has been done on the platform https://spacehack.lu/2019-edition/
Act In Space Luxembourg 2018
25 & 26 May 2018 at InTech SA.
Act In Space Luxembourg 2016
The first edition in 2016 was a real success. One team created their own startup «Starwear» and received the public price in Toulouse during the «Toulouse Space Show».
About the organisers
Two actors, Technoport S.A. and InTech S.A., with a track record in new technology and business development and innovation events (serious gaming and hackathon type events) aim to consolidate a dedicated network in SpaceTech entrepreneurship and innovation events.
Technoport SA is the national technology business incubator that supports the creation and development of innovative and technological companies in Luxembourg, including startups, spin-offs and foreign companies establishing their R&D centers in the country.
InTech SA, based in Luxembourg, is a subsidiary of POST Luxembourg Group, specialized in IT advisory and in custom application development. Using cutting edge technologies, InTech helps its customers to transform their organisation by identifying disruptive innovation and applying them to concrete business.
Event's Ambassadors
University of Luxembourg (Luxembourg)
Université de Lorraine (France)
Haute Ecole de Namur-Liège-Luxembourg (Belgium)
Université de Liège (Belgium)
ESN - Erasmus Student Network Luxembourg (Luxembourg)
Contact
Francis Sujkowski: Francis.Sujkowski@Intech.lu
Olivier Zephir: olivier.zephir@technoport.lu
Act In Space Luxembourg 2020 will take place in Technoport incubator:
9, avenue des Hauts-Fourneaux, L-4362 Esch-sur-Alzette, Luxembourg
For a matter of space in the building, we can receive a maximum of 10 teams of 5 people.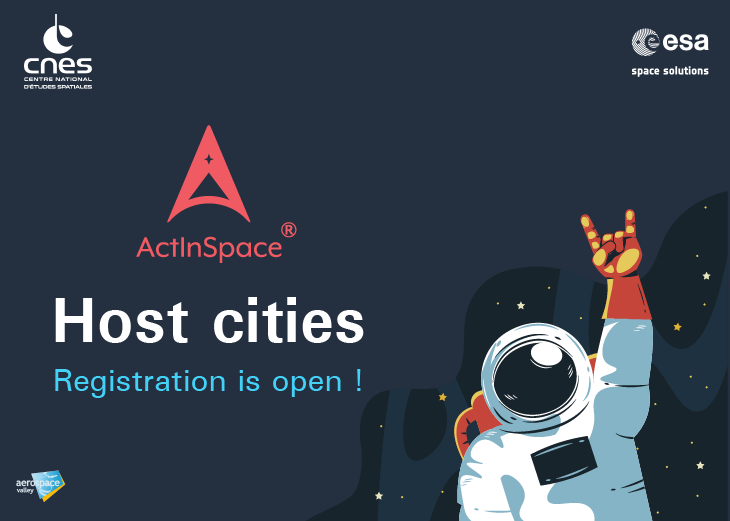 City registration is open !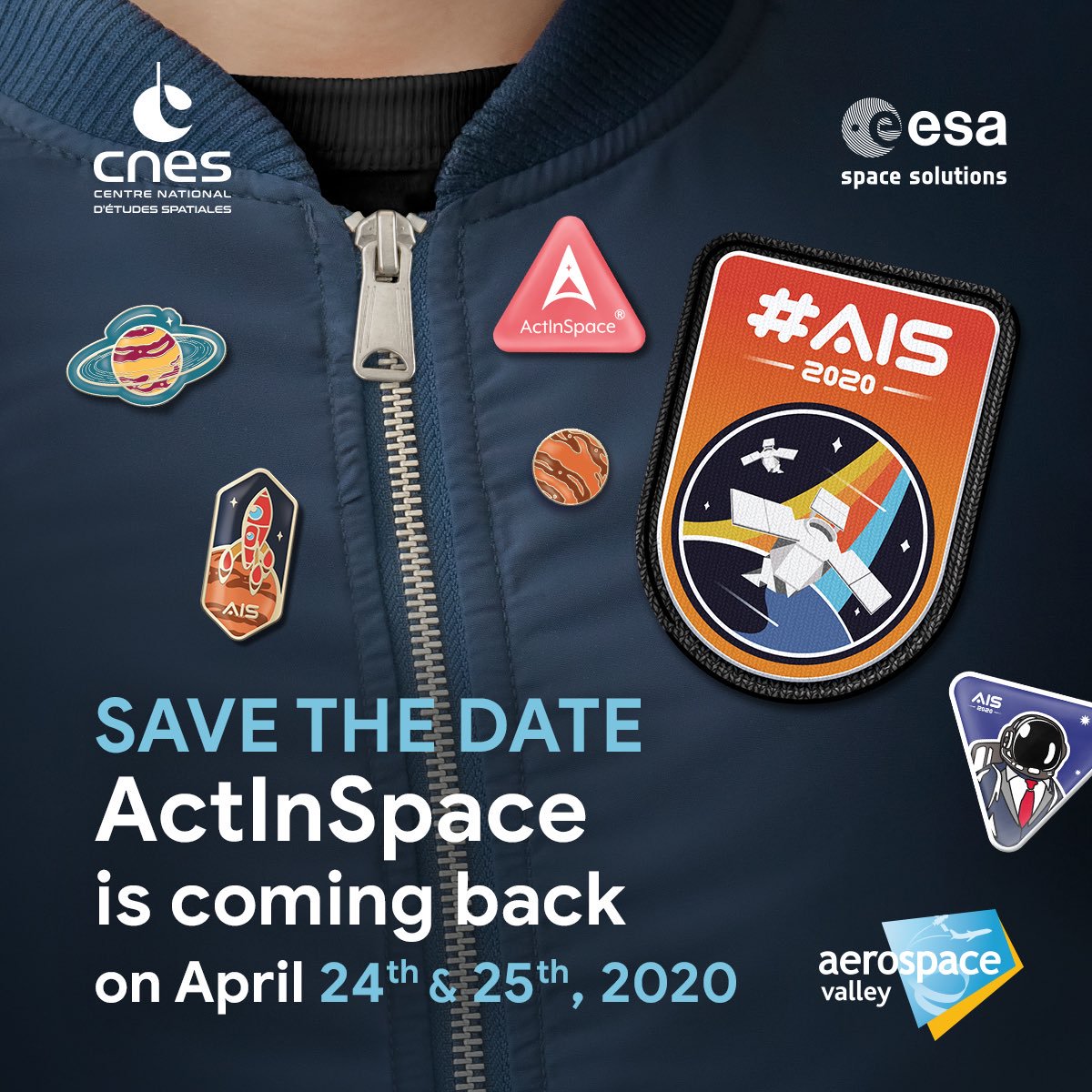 ActInSpace® 2020 kicks off at Paris Air Show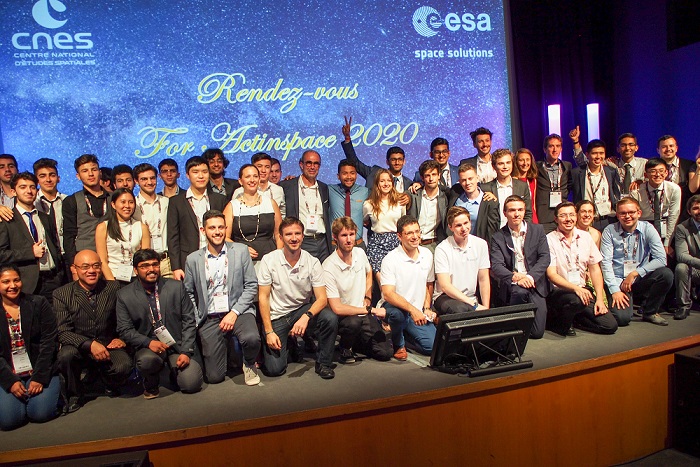 Press release: Winners of the #ActInSpace® 2018 edition
Home page
About
Challenges
News / Blog
World map
Legal notice
contact@actinspace.org