ACTINSPACE IN ITALY - MATERA
Within the framework of the SPARKme project (http://www.sparkme.space/), the Italian Space Agency is promoting the organisation of the National 2020 ActInSpace Hackathon, which will be organized in Italy for the first time!
Openet Technologies Spa (http://www.openet.it/), as coordinator of the SPARKme initiative and as a SME operating in the space business sector, is coordinating the Italian organisation.
Originally created to foster entrepreneurship, especially among young people, ActInSpace® is a "marathon" of creativity and innovation where participants from a diverse range of backgrounds and with expertise in a variety of fields collaborate in small teams in just 24 hours.
During the ActInSpace® hackathon, experts from the space industry and the business world will be present to advise and accompany the participants.
Italy is ready for the 2020 virtual edition of ActInSpace organized for our country by the Italian Space Agency (ASI) in collaboration with OPENET Technologies S.p.A. of Matera with SparkMe, the Business Accelerator dedicated to the Space Economy and the incubator of the Politecnico di Torino i3P.
ActInSpace Italia is open to everyone and participation in the Hackathon is free: students of the aerospace sector, startups who work in the field and want to get involved, designers, marketers and communicators can register until D-Day (November 12th ). To join the event, you need to find a team, develop a project within 24 hours, and finally register for the national competition on the official event website: https://actinspace.org/country/italy.
The aim is to work on a solution that responds to one of the challenges based on high-level technologies, which however are easy to reuse because they have been selected precisely for their potential commercial applications: https://actinspace.org/challenges
The national competition will take place simultaneously worldwide on 13 and 14 November 2020. In reaction to the COVID-19 pandemic, the organizers for Italy (ASI, Openet Technologies S.p.A. and i3P) have in fact decided to opt for a unique virtual Hackathon event organized nationally in order to ensure maximum safety of the participant
At the end of the Hackathon, the teams will have 7 to 10 minutes to present the project to the Jury who will evaluate the work, using the criteria provided by ActInSpace: validity of the economic and business model, the innovative nature of the project, the potential of the project in the economic and social field, leadership.
The best team of the Italian competition will access the international finals in Toulouse in France; the winners of the ActInSpace 2020 contest will receive many prizes, including the grand prize: a parabolic flight aboard a Zero-G Airbus A310.
Next steps:
13&14 November 2020: Virtual Hackathon - Matera&Turin together on line for a National Competition!
February 2021: International finals, during Global Space in Toulouse, the international space rendez-vous
More info:
Discover the winners of the locals editions !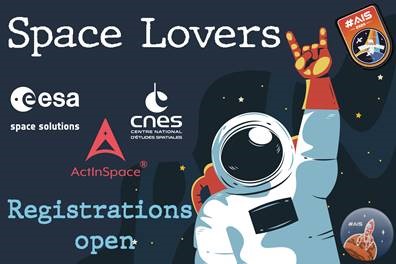 Only a few weeks until ActInSpace 2020 !
Home page
About
Challenges
News / Blog
World map
Legal notice
contact@actinspace.org