ACTINSPACE IN ITALY
- Turin -
WHO CAN PARTICIPATE?
ActInSpace is open to everyone: students, aerospace enthusiasts, start-ups working in the field and willing to challenge themselves, designers, marketers and people with communication skills. Your team needs to be multidisciplinary in order to succeed!
The suggested number of teammates is three to five: with less people you'd work alone, with more it would be too chaotic.
HOW DOES IT WORK?

You and your team will have 24 hours to work on your project. The aim is to work on a solution answering one of the challenges available on the ActInSpace official website.
All the challenges are based on high-level technologies, which nevertheless are easy to re-use because they have been selected due to their potential for commercial applications.
At the end of the hackathon, you will have 7 to 10 minutes to pitch your project to the national jury that will evaluate your work, using ActInSpace criteria.
REGISTRATION

The participation to the hackathon is free, you just have to register for the local event on the official website.
SCHEDULE

The hackathon will start on Friday, November 18 and last till Saturday, November 19, 2022. The full event schedule will be published soon.
Come back to this page in the next weeks to check for further updates!
Discover the winners of the locals editions !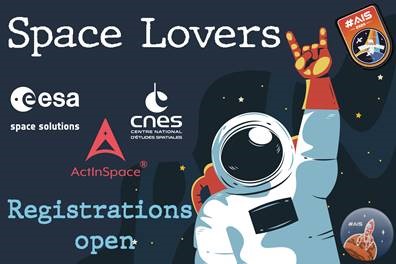 Only a few weeks until ActInSpace 2020 !
Home page
About
Challenges
News / Blog
World map
Legal notice
contact@actinspace.org