ActInSpace Organizers
CNES
The CNES is in charge of conceiving the 2018 edition and will share its experience with all the other participants. Due consideration will be given to the opinions of all organisers, the ESA being the first among them. Nevertheless, the contest's rules, the overall communication plan, and the coordination to draft and create subjects and challenges fall to the CNES. This is done to ensure continuity to the first and second edition. The CNES will also organize the event in France, and provide a prize for the participants in the different French cities and towns.
ActInSpace® was initiated by CNES which role also in this third edition is to oversee its implementation in close coordination with the local organisers. CNES is the overall decision-maker for the event, its overall communication plan, the rules of the competition and the co-ordinator for the preparation of the challenges. CNES is also the organizer of all the event in France.
ESA
ESA Space Solutions is a 'one-stop shop' for re-purposing space technology. By exploiting space know-how, facilitating and inspiring its use in new applications and sharing this knowledge we bring 'space back down to Earth'. At the heart of this is an agile and specialist transfer and incubation network, conecting and enabling bussinesses and entrepreneurs across Europe.
ESA has been involved in ActInSpace® since its 2nd edition in 2016 and ESA space solutions´ role is to promote the contest's international dimension, opening up opportunities for using space technologies and data for creativity, innovation and entrepreneurship across Europe and worldwide.
The European Space Agency (ESA) is Europe's gateway to space. Its mission is to shape the development of Europe's space capability and ensure that investment in space continues to deliver benefits to the citizens of Europe and the world. ESA is an international organisation with 22 Member States. By coordinating the financial and intellectual resources of its members, it can undertake programmes and activities far beyond the scope of any single European country.
ESA BIC Sud France
The ESA BIC Sud France opened in 2013 and is managed by Aerospace Valley. The center is located in three regions in the south of France (Nouvelle Aquitaine, Occitanie, PACA), offering entrepreneurs support and technical expertise for the creation of innovative start-ups. ESA BIC Sud France is composed of the following members providing the best support to business creators:
Six support structures: ESTIA Entreprendre, Bordeaux Technowest, CEEI Théogone, Midi-Pyrénées Incubator, BIC Montpellier Mediterannée Metropole and PACA-Est Incubator
Two aerospace competitiveness clusters: Aerospace Valley and Safe
The French Space Agency: CNES
ESA BIC Sud France, led by Aerospace Valley, is in charge of the operational execution of ActInSpace.
ActInSpace® is an international innovation contest initiated by the French Space Agency (CNES) uniting over 60 cities across 5 continents. ActInSpace® is supported by ESA and the ESA Business Incubation Centres network. The CNES and ESA have mandated ESA BIC Sud France, led by Aerospace Valley, for the operational execution of the 3rd edition of ActInSpace®.
By taking part in ActInSpace®, you'll be taking part in a truly international event bringing together entrepreneurs, students, job seekers, developers and creatives worldwide. For 24 hours, teams come together to work on real-life challenges alongside business mentors and technical experts and to imagine and design innovative services and products that find every day uses for space technologies or data.
And that's just the beginning! The winning teams will proceed to the national and international finals to present their project to an international jury of experts on technology transfer and business development. All teams with promising projects will go on to receive guidance from ESA's Business Incubation Centres and partner incubators to accelerate their project and turn their idea into a real company.
What are ActInSpace® key goals?

We want to make people dream bigger and develop their entrepreneurial spirit, especially young people
We aspire to show people just how amazing the space sector is and how it can positively impact on our daily life
We're driven to demonstrate the socio-economic potential of the space sector and its ability to boost startup creation
We look to build a bridge between civil society and space agencies to make patent licensing more accessible
We believe in #WomenInSpace and want to encourage women to start technical companies
ActInSpace Tools
ActInSpace Contest Rules
ActInSpace Contest Rules
FAQ
Everything you need to know
User Interface Guide
More information about the user interface
Public Award
Only for the local winning team
Support for Data platforms
In this document you will find short descriptions and links of data platforms which will be useful for challenges with #Data tag
Grand Prize ActInSpace
Selection Criteria
Partner Prizes Guide
More information regarding the selection criteria and the deliverables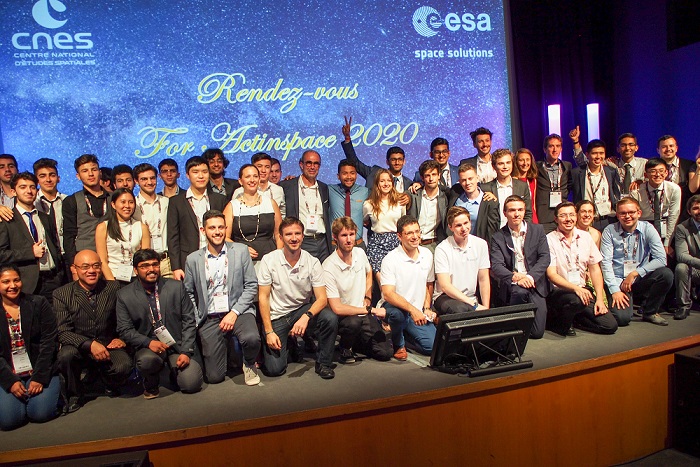 Press release: Winners of the #ActInSpace® 2018 edition
Press Release : ActInSpace Goes International
Boost your Career in Aerospace!
Home page
About
Challenges
News / Blog
World map
contact@actinspace.org